Nuisance calls from 0800 358 4487 claiming to be Three UK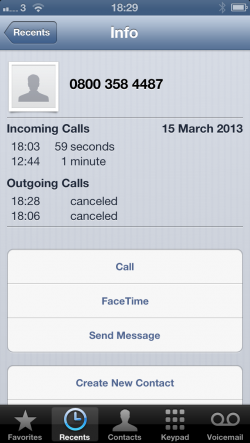 At just after 6pm this evening I received the second call of the day from 0800 358 4487. On both occasions the caller claimed to be from 'Three, the mobile network'.
Yes, my phone is with Three and first caller did know what phone I had and when I ordered it, as well as my name, so in all likelihood they were who they said they were. Or, at least, they were acting on Three's behalf.
The first call was tolerable (although I can't remember if I specifically opted out from marketing calls or not when I ordered the phone - I usually do). Essentially they wanted to get other members of my family on a Three contract as well. I said politely that this wasn't of interest at which point the caller rapidly lost interested and said his goodbyes. Fair enough. That was in the early afternoon on a weekday, he knew my name and was, probably, from a company who's services I use. In fact the same sales team has even been complimented by an industry blogger here.
However, I was to receive a second call at 6pm. Just when my wife and I are trying to be quiet and sooth our 7 month old baby to sleep. I immediately recognised the number and, curious to see what they could possibly want for the second time in the same day, I answered. After hearing the same spiel about them being from Three etc, I told him I'd already been called earlier today. I was then interrogated as to the purpose of the first call. In the interests of discovering where he would go with this, I said 'special offers'.
This is where things started to get a bit out of hand. He started explaining to me that it was actually impossible that I could have received a call from them earlier. This was because the system couldn't call the same number twice in one day. I should be clear that this wasn't a kind, polite, explanation. It was, in fact, about as rude as it's possible to be whilst maintaining some level of composure.
So in no uncertain terms I was then being accused downright of lying. Clearly, even though they are from Three, they didn't have access to my recent calls list. I've attached a screenshot here for a giggle. The two cancelled outgoings were me accidentally calling them back while trying to view the call details.
Eventually I managed to part ways with this anti-salesman with only a baby to put back to sleep after being woken by the call.
The fact that this was a repeatedly unwanted call, coinciding with my baby's bedtime, was what prompted me to write this and see if anyone happens to search for the number and has been equally annoyed by their tactics and anti-social calling hours. I doubt I'll find the time to take my complaints in any official direction but I'm seriously tempted.
Update 12th July 2013: It seems they have forgotten my request not to be contacted again as today I have received two calls and a text. The first call, which I ignored, was from 0800 358 4486. Then I got a text which came up as 'FromTheee' on my phone. Then, at the anti-social hour of 18:45, I was called from 0800 358 4494. Suspecting Three, I answered to confirm this, and indeed it was. I'm assuming the first number was also them.
Update 19th November 2013: They have once again forgotten my request to not be contacted and are now calling me again from 0800 358 7281 at 18:25 - just as we're winding down for bed time with our 15 month old.