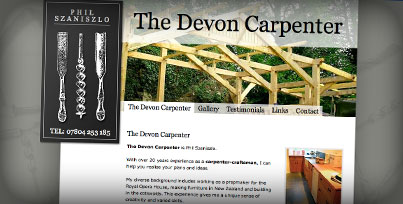 " In the begining...I knew nothing about websites other than the fact that I needed one to promote my work.
Now...I know that I have a very efective website that I am able to adapt and update MYSELF !
How is this possible?...Ben is a very clever man, and I am a very happy customer. "
Testimonial by Phil Szaniszlo the Devon Carpenter
Phil Szaniszlo commissioned us to build a new website to use an advertising tool for his capentry services in Devon. The website was built with search engine optimization in mind and just a few weeks after launch his website is appearing at number one for his main Ggoogle phrase 'devon carpenter'.
We installed our new content management system on Phil's site to allow him to maintain and add to his website as time goes on. One of our philosophies here at Phototropic Productions is that we don't want our customers to feel trapped in a circle of expensive mainatence fees just to make small edits to their websites. Phil can now edit his webiste when and how he wants and at no futher cost.
Most companies charge a lot to give this control to their customers as they know they won't get any more money out of the customer for making changes to the site. We believe that giving this control at a reasonable cost will help our word-of-mouth marketing and increase customer satisfaction, which is our first and foremost goal.
Learn more about our Exeter based website design services.