After finally plucking up the courage (and just about finding the time!) to start getting to grips with Final Cut Pro X, the first hurdle I really came across was that of media management.
Over the last few years I've developed quite a specific media management workflow. I have two main external drives which form the basis of my workflow:
Storage Drive (Drobo, connected via FW800)
Scratch Drive (G-Tech, connected via FW800)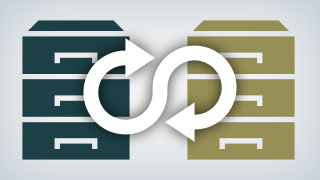 I don't use the internal drive for anything to do with FCP as video footage just uses up space too quickly. Everything on my Storage Drive is also backed up weekly to multiple drives which become an offsite backup, but that's another article.
On my Storage/Archive Drive (which is protected against a single drive failure due to it being a Drobo) I have collections of folders grouping clients and then each client folder contains a folder for each job for that client.
Because the Drobo isn't fast enough for video editing (at least with EX3 XDCAM EX footage, even though it's FW800 it just can't access the data quickly enough, presumably a limitation of it's RAID technology) I need to incorporate a faster single FW800 drive into my production workflow.
So my current (FCP 7) workflow looks like this:
Create a new client/job folder on the Storage Drive. Copy the footage from camera into a folder within the client's job folder.
Copy the whole job folder onto the Scratch Drive.
Lock or colour flag the job folder on the Storage Drive on the scratch drive, so that I know it's currently being worked on.
Make a new FCP project file in the job folder on the Scratch Drive. Open FCP and start working with the footage and project file from the Scratch Drive.
Every day (or more frequently) replace the job folder on the Storage Drive with that from the Scratch Drive (using an excellent app called 'Folder Sync').
At the end of a job, simply make sure the job folder on the storage drive is up to date, then remove the job folder from the Scratch Drive.
If I need to revisit the job in the future, I simply copy the job folder from the Storage Drive to the Scratch Drive and carry on as before.
FCP 7 is set to use the Scratch Drive for all render files. I don't move render files around or keep them on the Storage Drive. I used to do this, but it just got to complex to keep having to reconfigure FCP with new locations for render files.
I figure if the Scratch Drive dies I can re-render any projects if I need to re-export anything. In that scenario I can grab a new scratch drive and copy the project folder from the Storage Drive to carry on from the last time I backed it up (hopefully no more than a day old).
So basically I keep the FCP project, and all media files, in a same folder. I then keep a backup of that folder on my Storage Drive at all times, and duplicate it onto the Scratch Drive to work on it. FCP 7 is good and keeping tabs of the media even if I have to move it to a different scratch drive to work on (or rarely need to open the project from the Storage Drive) because the project file and media files are all in the same folder. It doesn't mark the media as offline if you move the whole project folder's location.
Enter, FCP X
Things are quite different in FCP X. There are two new top level concepts which govern the whole process. These are 'Events' and 'Projects'. At first I thought my workflow was going to really suffer as it appeared that FCP X wanted to keep all events in the same place all of the time. My workflow only needs currently worked on Events to be on the Scratch Drive, and the rest of the time they can be in storage. What I want to happen is be able to keep a project and it's media in storage, and then move it back to the Scratch Drive and everything work as expected.
FCP X actually supports this workflow very well. Before I go into the actual workflow I'll just mention a few important points regarding Events and Projects and how FCP X deals with them. Basically Events and Projects can be stored on any connected drive, the only requirement being that they need to be in a top level folder called 'Final Cut Events' and 'Final Cut Projects'. This is quite handy because it means we can easily remove an Event or Project from the system (to avoid FCP seeing a duplicate of an Event or Project when we have a copy on the Storage Drive and the Scratch Drive at the same time), just by making sure it's not in those top level folders.
FCP X 'Events' and 'Projects' are file based. This means a given Event or Project is neatly organised inside a single folder. What we do with that folder is largely up to us and moving that folder around doesn't jeopardise the integrity of it's contents. As far as I'm aware, there is no central database to get confused if you move an Event or Project around. What seems to happen is FCP X simply looks at the top level of each connected drive for all Events and Projects each time you open the application. You can then just start working with them. FCP X seems to handle differing drive speeds very well, you just see performance increases if you use faster drives.
One thing I have noticed is an Event or Project can't be moved while FCP X is open (it contains a lock file). So always make sure FCP X is closed before moving 'Events' or 'Project'.
So, we can start to see how a workflow might work, given we know how robust an 'Event' and 'Project' folder is. My FCP X workflow looks like this:
Open FCP X.
Create a new 'Project' and new 'Event' on the Scratch Drive. Use a naming convention to make it clear which client and job they belongs to.
Import footage into the 'Event' from camera (in my case I need to do this in a two stage process because FCP X can't import directly from my camera). Make sure the 'Copy original media to Event' option is checked. This will make sure the actual media files are stored inside the 'Event' folder. This way the Event folder is folder you need to incorporate into your backup flow for the footage.
Create a new client/job folder on Storage Drive.
Add two folders inside this new job folder, called 'Final Cut Events' and 'Final Cut Projects'. Please note I'm using the same folder names as the actual Event and Project folders which FCP X creates in the top level of drives, but these will never be used because they will never be in the top level of a drive. I'm simply using the same names so I know where to put the contained Event and Project folders when I want to work with the project.
Copy the Event folder and Project folder from the Scratch Drive into the folders (created in step 2) in the Storage Drive job folder. These are now the backup of the footage and project and can be replaced with those from the Scratch Drive regularly to protect again Scratch Drive failure.
Start working with the Project with footage from the Event in FCP X. You should only see one version of the Project and Event in FCP X, from the Scratch Drive. The copy of the Event and Project in the Storage Drive will be invisible to FCP X because they aren't stored in the top level of the Storage Drive. In fact I should never see a 'Final Cut Events' or 'Final Cut Projects' folder in the top level of my Storage Drive, only on the Scratch Drive.
This workflow has the added advantage that I can only work with the projects when they are on the Scratch Drive, ensuring that I've never accidentally worked on a project while it's on the Storage Drive, only to then replace it from an out of date version from the Scratch Drive. So I'm actually much happier with this way of doing things. Apple have really thought about media management, storage and organisation of data. All of the advanced tagging and meta data in FCP X is stored within the Event folder, and is always preserved regardless of where we've moved that Event folder to and from.
The system works well enough that you can even move the Event and Project folder to any other drive (as long as they are in top level 'Final Cut Events' and 'Final Cut Projects' folders) and you can then simply open FCP X and the project and event shows up in there ready to be worked with. So there appears to be no significance on which drive a project or event is created or stored on. As long as they are in the proper top level folders, they'll show up correctly in FCP X.
Anther advantage to this system, and one clearly encouraged by FCP X, is the ability to draw on multiple Events for a given Project. For example, if you want to create a showreel from recent work. In this scenario I can simply copy as many Events from their respective client/job folders onto the Scratch Drive, and work with them in a new Project.
Now that I've got this sorted, I need to start figuring out how to actually edit in this very forward thinking software. From the overview videos I think it really will revolutionise the editing process, even if it does mean re-learning everything.